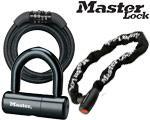 Everything safe with bicycle locks
They are more trendy than ever: bicycles, especially expensive e-bikes, pedelecs and racing bikes. Motorbikes and e-scooters are also more frequently seen on the roads. However, with the trend, the number of bicycle and motorbike thefts is also increasing, which is why special emphasis should be placed on protecting the expensive property.
Our high-quality and modern two-wheel locks are particularly suitable for this purpose, so that you are protected against theft in the best possible way. The range includes cable locks, chain locks, U-locks, special locks with a high security level and much more.