KESO 2500FP is proven quality
Patented technology offers reliable copy and burglary protection.
The system-specific security card guarantees perfect control of key reordering.
High-precision KESO technology with Swiss quality ensures the best system functionality.
Patent protection
Profiled Key stop
Multilateral
Access
Traceable
number of keys
e-Securitycard
VDS A
KESO keysThe new reversible keys from KESO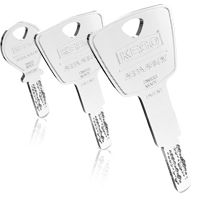 KESO offers you a choice of different key shapes. The smallest shape is the round key (length 56 mm).
If you have a door fitting with anti-drilling protection, where the key has to bridge a certain distance before it reaches the locking cylinder, choose the long key (length 66.5 mm) or the extra long key (length 73.5 mm).
When ordering, simply select the key shape. You can select the different keys at no extra charge. The extra long key is not available in the selection. If you would like this, you can write your wish in the "Notes" field during the ordering process. Please note that the order with extra long key will take approx. 15 working days.
---

All our locking cylinders are supplied with a security card. This entitles you to have duplicate keys made. You can have duplicate keys made by us or by any authorized specialist store. Please note that duplicate keys - depending on the manufacturer - can cost many times more than the initial order.
Our locking cylinders are exclusively new goods, which can be ordered in any quantity. With our locking cylinders, you can also order additional locking cylinders later to match your order. For example, you can also order a single locking cylinder which you can combine with another locking cylinder of the same cylinder series at a later date, so that you can then open and lock both locking cylinders with just one set of keys (keyed alike). You can expand this as you wish with double locking cylinders, semi-locking cylinders or knob cylinders from the same series. Therefore, when ordering, make sure that the locking cylinders are not remnants or insolvency assets.
You can also reorder the ordered locking cylinders from us.
Your onlineshop team
This Product was added to our catalogue on 23/06/2017.